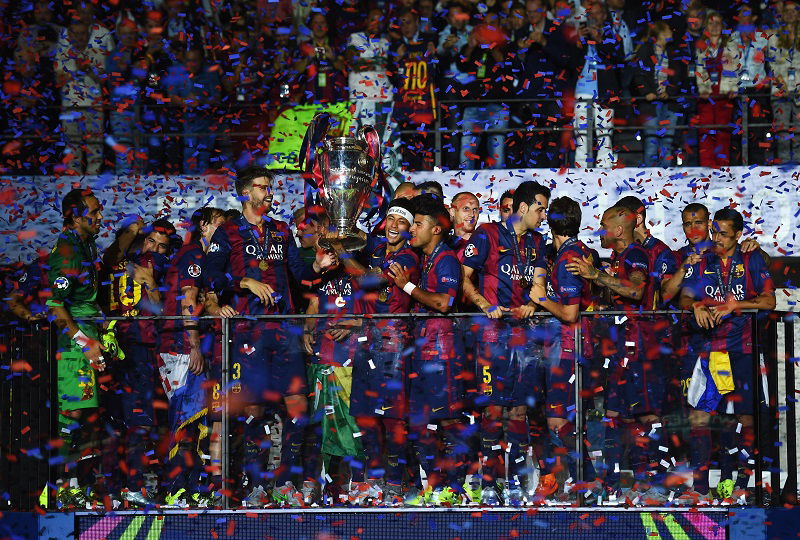 Juventus 1-3 Barcelona: Player Ratings
Barcelona lifted their third trophy of the season last night after they overcame Italian giants Juventus in a 3-1 win to add a fifth Champions league to their collection.
Both sides showed of some excellent football throughout the 90 minutes, here's my opinion of the best and worst players of the final.
Juventus 
GK – Gianlugi Buffon – 8
Gianluigi Buffon was by far Juve's stand out player; he stopped Barcelona from embarrassing his side on a number of occasions. Some superb saves and acrobatic defending kept the old lady in the game for the whole 90 minutes, though there was still the occasional shaky moment.
RB – Stephan Lichtsteiner – 6
First half you could hardly fault Lichtsteiner's performance, he kept Neymar JR reasonably quiet and allowed Jordi Alba only the rare surge forward. The right back also did very well for Juve's equaliser.
However, in the second half, with Juventus fighting for an equaliser, the Swiss began to surge forward to assist the attacks, which Barca capitalised on. Lichsteiner afforded Neymar so much space on the left hand side, which he exploited excellently.
CB – Leonardo Bonucci – 6
Like Lichsteiner, Bonucci did quit well first half keeping the ever-present Luis Suarez away from goal for much of the half. However like they do almost every game, Barca's trident cracked Bonucci and his defence and began to tear them apart.
CB – Andrea Barzagli – 6
Looked strong with Bonucci as a pair, however when Messi and Co linked up he was cut apart. Barzagli gains an extra advantage over his centre half partner for a couple of key blocks, mainly his intervention just before the half which stopped Messi getting through.
LB – Patrice Evra – 5
As it always is with Patrice Evra, he wanted to win badly and it showed. The Frenchman worked his socks of but leaves with very little to show for his work. Was caught napping a number of times, particularly for Suarez's goal. Didn't get anywhere near close enough to Messi, which allowed him to dictate the game from the right, though many better have tried to stop him and failed.
CM – Claudio Marchisio – 6
Was quiet for much of the game but his intelligent flick to Lichsteiner lead to Juve's goal.
CM – Andrea Pirlo – 5
What is likely to be Pirlo's last game for Juve didn't go the way he had dreamt, the Pirlo we all know and love didn't turn up for the final. He wasn't afforded the amount of possession he usually likes and was kept very quiet.
CM – Paul Pogba – 6.5
Pogba was good but not great, there were clear flashes that the Frenchman could go on to be world class but he needed to have a bigger impact on the game. He did however work very hard for his side.
CM – Arturo Vidal – 6
In the second half, the Chilean looked like a good player and much of Juve's good play went through him, however his first half was unforgiveable. The feisty midfielder looked like he wanted to be sent off and after receiving his final warning he was forced to reign himself in.
ST – Carlos Tevez – 7
Worked for his team as always and looked like he might have a big say in the match a number of times. But Pique and co. managed to get a hold of him and stop him from affecting the result in a big fashion.
ST – Alvaro Morata – 7.5
As he said before the game Morata wanted to win the title for his current side and his boyhood club Real Madrid. He got the equaliser for Juve and was very good on the ball, the Spaniard has really improved in this years campaign.
FC Barcelona
GK – Marc-Andre ter Stegen – 6
The young German showed flashes of his class with some clever saves and looking very comfortable on the ball. Though there were still signs of his youth and lack of experience at the top level.
RB – Dani Alves – 9
For me Dani Alves was man of the match, I'm sure a decision that will be questioned by many. The Brazilian was everywhere in the final, he kept Evra quiet and still had plenty of energy for attacks. Perhaps showing off to potential clubs who may be after his signature.
CB – Gerard Pique – 8
A very solid evening for Gerard, clearly putting last years dreadful season behind him. Could of done a bit better for Juve's goal and maybe should have had his own.
CB – Javier Mascherano – 6
Very shaky early in the match and gave the ball away far too often for a Barcelona player. The ex-Liverpool man grew into the game but was still far from his best.
LB – Jordi Alba – 7
Alba always there to help Neymar down the left, his blistering pace was very difficult for his Italian opponents to deal with. The Spaniard played a key part in the opening goal.
CM – Sergio Busquets – 8
Busquets played a very understated role in the centre of midfield, he kept his side calm and allowed his attackers to go off and play their game. One of the key players in the game.
CM – Ivan Rakitic – 7
He finished the opening goal nicely and was decent throughout the game without being spectacular. Ivan Rakitic has had a very good first season at Barcelona.
CM – Andres Iniesta – 7
A good display for a player who was a doubt to start the match and helped Barcelona with the assist for the first goal making him the first player to gain an assist in three champions league finals.
RW – Lionel Messi – 9
For Messi's standards he wasn't at his best, despite being one of the standout players in the game. The Argentine played a huge role in the second goal after his brilliant dribble followed by a shot, which rebounded to Suarez. Messi showed what an incredible passing range he has and how calm he is in his new role on the right.
CF – Luis Suarez – 7 
Suarez scored the second and perhaps the most important goal, such as we have become accustomed Suarez was on hand to tap in from close range. Not at his excellent best but was still a nuisance to deal with.
LW – Neymar – 8
An excellent display from the samba star, and he managed to top of his wonderful display with a nicely taken goal. The Brazilian has made huge steps this season with his improvement and is set for even bigger things in the future.
---