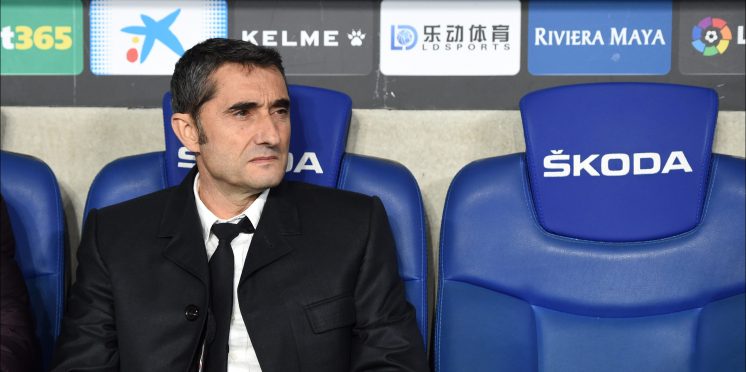 Can drastic changes spark Barcelona to life?
The week got off to a worrisome start for FC Barcelona when the club released the news that Luis Suarez would be missing the rest of the season due to an external meniscus injury.
The news came as a shock to the Barcelona faithful, as it was initially reported that Suarez would only need minor knee surgery and miss a couple of weeks. While still digesting the loss of Suarez, Barcelona dropped a second bombshell, announcing that Ernesto Valverde had been fired.
The sacking of Valverde brought mixed emotions to many. There has been a large contingency of Barcelona fans who have been calling for Valverde's head for over a year. The collapses in the past two Champions League campaigns, paired with his style of play have been the main factors to the growing sense of dissatisfaction in the club with Valverde. However, the manner in which Valverde has departed the club with such class and dignity has left many of these fans with mixed feelings.
The letter Valverde released thanking the club for the opportunity, expressing his appreciation for everything he experienced with Barcelona, and wishing the best for the new manager Quique Setien proved what a gentleman he is. The letter reflected wonderfully why Valverde seemed to always have the backing of Messi and the rest of the Barcelona dressing room even at the toughest of times.
Somewhat forgotten, Valverde also achieved so much on the field at Barcelona as well, winning two La Liga titles and four trophies in total. The job Valverde did in La Liga in his first season 2017-2018 was truly a historic achievement that does not get nearly enough credit as it deserves. He arrived at Barcelona only to find out that the third-best player in the world at the time, Neymar, was leaving the club for PSG.
Add to the fact that Real Madrid had won the Champions League and La Liga double the previous season, expectations appeared to be substandard. However, Valverde tackled these hurdles in his initial season and went on to win La Liga in convincing fashion, losing only one match with what ought to be said a less than glamorous Barcelona side.
It was a team that included below-average players for Barcelona standards such as Andre Gomes, Aleix Vidal, Thomas Vermaelen, Paco Alcacer, and Yerry Mina who played significant minutes for the title-winning side. Valverde showed grit and a pragmatism that was needed for that 17-18 season. As admirable as this grit and pragmatism was in Valverde's first season, it ironically led to his demise at Barcelona.
Barcelona continued playing the same way as they did that first season with Valverde. He continued churning out results but the biggest problem continued to be the "how" in which the results were coming.
They currently sit atop La Liga, which is generally not the position a team is when they decide to sack their manager, but Barcelona's style of play had been compromised under Valverde.
The beautiful game that Barcelona and Johan Cruyff created has not been seen on any consistent level for some time now at Camp Nou. Valverde relied on his rigid structure with the brilliance of Messi and Suarez for too long.
As mentioned earlier, when Valverde first arrived at the club he was against all odds with the players at his disposal. Those players were not at the Barcelona level but he was able to get the absolute best out of them. Conversely, the current squad is littered with Barcelona quality players though apart from Messi seem to be underachieving far too often. The likes of Antoine Griezmann, Frenkie de Jong, Arthur, and Ousmane Dembele who are underperforming are not a comparable supporting cast as the aforementioned list. The clock on Valverde has rightly expired. Perhaps, the timing of the firing is off but Barcelona did what has needed to be done.
The next question is Quique Setien the right man to bring out the best in Barcelona's potential world-class players? Quique Setien has seemingly come out of nowhere to being now dubbed as the perfect man to save Barcelona.
Setien has ticked all the checkmarks in his initial days as Barcelona boss, paying tribute to Cruyff, preaching his uncompromising possession style, and complimenting Messi's genius that has Barcelona supporters daydreaming of better days on the horizon. The manner in which Quique Setien has announced himself is seemingly cliche, but could there be some truth to the optimism surrounding the appointment? The answer probably lies somewhere in-between as it always does. What can't be disputed is this is a squad full of talent but it needs the correct structure and ideas to push in the right direction that Setien will look to provide.
It's undeniable that at his previous club Real Betis, Quique played some brilliant football. He also showed tactical variety at Betis where at times he successfully deployed a 3-5-2 formation. Barca have three very strong central defenders with Pique, Lenglet, and Umtiti which could add stability to the backline while still allowing the side to control possession with three central midfielders. Letting the wing-backs Alba and Roberto provide the width with Leo and Griezmann upfront. This is mere speculation about a possible 3-5-2 formation, but it demonstrates the untapped potential the squad contains with a little tinkering, that the former manager was unable to provide.
Valverde seemed defiant in his use of Griezmann as a left sided winger in the classic Barcelona 4-3-3 formation when everyone in the world could see it was not a natural position for him. The injury to Luis Suarez could possibly come as a blessing in disguise for Barca because it should allow Griezmann to occupy more central spaces that utilise him better. Suarez has meant so much to the club and has been arguably the best number nine in the world during the past decade. Which is why it was so difficult for Valverde to replace him in the team because of what he represents to the club. He still has magnificent moments and his connection with Messi both on and off the field has been invaluable. However, over the past few years, he has lost his physical sharpness to be able to perform at this level on a consistent basis.
Griezmann is a fantastic footballer. Who I believe at this point in their careers is a better player than Suarez. Griezmann's adaptation to life at Barcelona in his first season hasn't been completely smooth sailing, but now is a perfect time for him to step up and show the world what he is about. Quique Setien must be hoping that both Griezmann and Dembele (once he comes back from his injury) will be able to raise their games to another level to replace the Suarez void. These situations of need for big clubs can yield positive results in increased performances. Look at examples across the way in England with Tammy Abraham and Marcus Rashford, as players who have stepped up to fill the void of quality their respective clubs expect. Griezmann, Dembele, de Jong, and Arthur hopefully will aspire to fill the shoes of club legends Suarez, Neymar (maybe not a club legend), Iniesta, and Xavi in this time of need. They have the tools to do so but of course, is much easier said than done.
Regardless of what the outcome of Barcelona's future is, it is going to be fantastic to watch how the remaining season unfolds for Quique Setien and whether he can make the correct adjustments to get the most out of this ultra-talented, but underperforming Barcelona side.
---